Bed Bugs
Bed bugs have made a strong resurgence in Kansas. Our company is approved and is winning awards as a bedbugFREE! company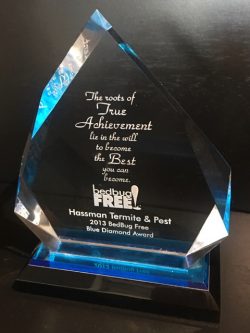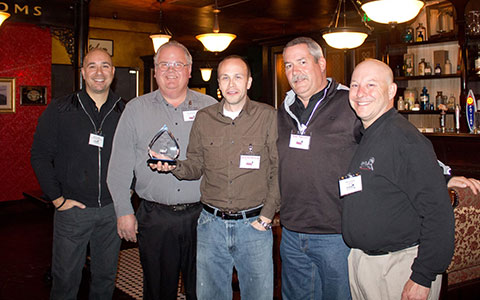 Why Use Hassman Termite and Pest Control for your Bed Bug treatment?
THE LIMITED PREP APPROACH
With our limited prep approach, in most cases we don't give a list of chores to do ahead of the treatment. We make it simple for you! We ensure that you will have 5 months of no bugs-no bites with our treatment.
We are trained through Bed Bug University on how to provide you a treatment with the Limited Preparation approach. This will save you a lot of hassle!
We have three staff that are graduates of BedBug Central's Bed Bug University Boot Camp and two staff that have completed the on the job training. We know bedbugs.
We have a protocol that is organized and gets results. In most cases we are going to be able to provide you with a cost free service plan at the end of the treatment process.
We use a wide variety of tools in our treatment process. We use Protect-A Bed Mattress encasements, Steam, dusts, pesticides, vacuums, and the Hetta Solutions Heat Chamber as well as the PCS Heat System.
Now offering treatments featuring Aprehend:
We have been using the new Fungal Bio Pesticide Aprehend since January 2018. Our results with this product have been phenomenal.
The active ingredient in Aprehend® is a natural fungal disease of insects called Beauveria bassiana, it is specific to insects and does not affect humans or animals. While the use of Beauveria to control bed bugs is a new application, Beauveria and other insect diseases have been used to control pest insects in horticulture and agriculture for many years.
Beauveria is a natural disease of insects, it infects an insect by direct contact, and does not need to be eaten to initiate an infection. Aprehend® contains the conidia of Beauveria, these microscopic 'seeds' readily attach to insect cuticle (insect skin). Once attached, the conidia germinate and penetrate directly through the cuticle and gain access to the insect's blood system. Once there the fungus grows inside the insect, using the blood as a food source. Very soon the insect becomes sick and dies from the fungal infection. In bed bugs this takes between 3 and 7 days.
Aprehend® spray barriers remain active for up to 3 months. This means that any bed bug crossing the barrier, even 12 weeks after treatment can pick up the conidia and go on to die.
Do you have bed bugs?
Adults are small, brownish insects, just under 1/4″ long and are relatively flat. They are nearly as wide as they are long, and oval in shape. Immature bed bugs (nymphs) resemble the adults, but are much smaller and lighter in color.
Watch these videos for a better idea of infestations.
Bed Bug Central's Holiday Charity Provides Relief from Bed Bugs
PRWeb – Thu, Dec 22, 2011….Email
Share1Print……BedBug Central partnered with bedbugFREE members and pest management professionals across the nation to donate bed bug services to charities and those in need this holiday season.
Lawrenceville, NJ (PRWEB) December 22, 2011 – We use a wide variety of tools in our treatment process. We use Protect-A Bed Mattress encasements, Steam, dusts, pesticides, vacuums, and the Hetta Solutions Heat Chamber as well as the PCS Heat System.
This holiday season Bed Bug Central partnered with eight pest management firms from across the United States to donate bed bug treatment services to those in need through, Taking the Bite Out of the Holidays, their annual holiday charity. Taking the Bite out of the Holidays, was created by technical director, Jeff White of Bed Bug Central, a free information resource to the public and pest professional concerning bed bugs and bed bug related issues and treatment methods. White created the holiday charity after seeing first-hand how difficult it can be for non-profits and individuals in need to obtain effective bed bug services.
"Having dealt extensively with bed bugs, we know they can be very difficult and expensive to eliminate. We also understand there are many people out there that simply can't afford effective treatment," said White.
"This holiday season we wanted to give back to the community and provide some relief to those in need so that they could use their money to create a happier holiday without the frustration of bed bugs." In order to reach as many needy individuals and charities as possible, Bed Bug Central enlisted the help of its bedbug FREE network, a network of like-minded companies that agree with philosophies and treatment methods of Bed Bug Central, and other pest management companies.
Eight companies partnered to participate in the third annual holiday event. The cumulative result of the participating pest management professionals resulted in charitable bed bug treatments taking place in New Jersey, New York, Illinois, Kansas, Pennsylvania, Florida, and Texas. In addition, Protect-A-Bed donated 30 twin mattress encasements and PackTite donated one original Pack Tite to Bed Bug Central for the charity. Together participating companies donated labor, products, treatments and services to homeless shelters, non-profit organizations, homeowners, and the elderly. Donated services included installing insect interceptors, applying heat treatments to facilities and infested furniture, chemical treatments and public health educational seminars.
The event's success has prompted Bed Bug Central to continue the Taking the Bite Out of the Holidays charity as an annual event and is hoping to expand the number of participants to create a larger impact. "We're energized coming out of this holiday season knowing that we were able to create a positive impact in people's lives and offer some relief," said White. "I am personally grateful to all the PMPs that donated their resources to make this charity so successful. Based on the turnout, we plan to make this an annual event with even more participants next year."
The eight companies are A-Alert Exterminating of Illinois, Bizzy Bees Pest Control of Texas, Cooper Pest Solutions of New Jersey, Gold Seal Pest Management of Indiana, Hassman Termite Pest Control of Kansas, McDonald Pest Control of Florida, Parkway Exterminating Co. Inc of New York, Top Level Pest Control Inc of New York.
---
About BedBug Central
BedBug Central serves as the nation's most authoritative information resource and website available to the public for information concerning bed bugs and bed bug related issues concerning health, prevention, and treatment methods. More information can be obtained at
http://www.bedbugcentral.com